This is where Search Engine Optimisation becomes a veritable and professional service and is distinctly separated from cheap outsource-operators who are doing nothing but hiring a link spammer in India to spam blogs all over the web (with your business name).
SEO is not about making search engines like you - it's about building a website that search engines like. And the biggest part of that is having something valuable for them to show to their searchers! That's why we insist that you have unique and well-written content on every page of your website, even if it's a product catalogue with thousands of products that you just can't imagine yourself writing a different description for.
SEO is not making search engines like you - it's building a website that search engines like.
We build the template and CMS to make it easy for you, even automatically combining standard content where possible, but you simply can't escape the need to have compelling and relevant text on every single page.
Once a business has their decision making powers-that-be past this fact, they're ready for...
Level Two
Link Bait goes the next step. It's not just compelling content - it's something special and it's created by you.. something new... something valuable... something 'out there'.
Additionally, it must be given away for free, and must be something visitors would even consider paying for.
Consider the difference in asking someone to link to you, when you're:
a. advertising yourself and asking for money, as opposed to...

b. giving something valuable away for free to their visitors who follow the link
The decision is clear. Other sites will be happy to link to you - after all, any of their visitors who follow the link will be receiving something of value for no cost. Now all you need is a little creativity.
So what have you got to offer that is so good others will want to link to your web page with it?
The best new ideas haven't been done before. Have a brainstorming session!
The second best ideas have been done poorly before, and you can do them better!
The third best ideas have been done well before, but not marketed properly, and we can market them better!
Your area of expertise is your biggest asset. What are you a specialist in? You've probably already got some of the best content right there in your head, and diagrams, photos and videos won't be far away. Let us help you develop the ideas - we'll even write you an outline or list of questions which will shape and inspire your contribution.
Depending on your industry, we may even be able to develop an online tool, resource, or game to attract visitors and links. These are the sorts of ideas that can get a LOT of attention, and possibly even be distributed virally through social networks.
Here are some ideas... some we've thought of, others we've stolen.
Create a how-to video that relates to your product or industry. It doesn't matter if that's the very service you offer, you'll receive more clients and more credibility for offering something up front.
Host an online survey. Some people just love them, and the statistical results can be displayed live so that you page will become a live resource for others looking for such stats.
Cartoons are funny. Make or buy some, and have a whole gallery of them, with the newest one up front every week or month, archiving the others for steadily growing content. Solicit fresh ones from readers.
Solve a problem with a calculator or configuration wizard. Putting in the development time to create something that really is useful that you can give away for free is what link bait is all about.
Run a competition. This is a great way to give away something free, and yet visitors will be willing to give you something (like a link to your site!) to earn their chance to win. Make it valuable enough, and run it long enough, repeatedly.
Case Study 1

Pioneer Websites recently designed and developed a custom-made javascript skill game for Clean My Windows, positively the nicest Window Cleaner in Sydney. Web developers are free to reproduce any part or all of the game as they see fit - as long as they link back to the original game page like this: Sydney Window Cleaner Game.




After a little promotional work, the game will have attracted some users and attention and we monitor how many links it receives from other sites on the web.




Most importantly, the PageRank flowing to the Clean My Windows site will make a noticeable difference on their search engine rankings!




Here's the first feedback we got from one addicted player:




"Level 4 was hard enough, and my wrist is killing me! This thing is compulsive, have to force myself to stop!"




Ah, perfect, just what we wanted!







Case Study 2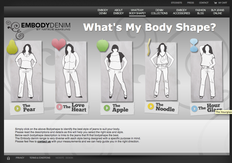 The new web site makeover of Embody Denim was increasing visitor traffic for
plus size jeans
by about 30% every month only three months into launch. But what has been stealing the show is their
Body Shape Calculator
. It currently receives more page views than even the home page itself! This is a sure sign that it is bringing new visitors to the site, new exposure to the brand.
And yet it's not overly complex, but it does offer some valuable information. And it does contain some great pics drawn by their graphic designer. And it does help them sell jeans, because each body shape leads to the recommended products!
Case Study 3
In response to the need for a quality
free online time clock
that was easy to use and friendly on the eyes, we built this one for Bundy Specialists. It requires very low user committal (you don't have to register to use it) and as soon as the page loads you are looking at the clock. You can even navigate away and back again and it will remember all your time logs - until you clear your cookies. For that you'll need to register.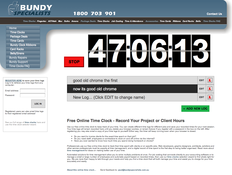 With just two clicks (Add New Log, and Start) you are using it, and from there it's just as easy to rename your time log, and create more. You can leave multiple timers running at once, and you don't have to keep the page open to keep the timers running. Time management is an issue for all contractors and employers, so this is perfect link bait and sure to attract some bites. We use it - it works great! It was
recently reviewed by gizmo
as well.
And of course it helps
Bundy Clock Specialists
to rank for their key phrase. They sell
time clocks
for employers and contractors which can handle job costing and payroll. This product is a very competitive keyword, but thanks to the online time clock and some promotional campaigns, Bundy Specialists are now picking up sales from this valuable keyword.
Case Study 4

This is a special example as it was done by Google and is not strictly designed to gain links (they don't need any as Google properties have a clear PageRank of 10/10 almost every time), but it was certainly designed to gain publicity, and positive feedback. It was a
free online Pacman game
and appeared instead of Google's logo.
Why would they need some good publicity? Because within the week there was a lot of bad news about Google's handling of private wireless connection data collected by their StreetView camera cars! A little good publicity with the Pacman game, and the next day hundreds of thousands of visitors (still looking for the game) see a brand new link to Google's new Secure searches using SSL - a little bonus offering for your privacy. A backhanded offering nonetheless, since Google still has access to all your search input!